Our Admissions Process
1. Virtual Visit
While BWS is currently caring for community by practicing distance learning, enrollment for Berkshire Waldorf Summer (starting June 25) and Fall 2020 classes is open for business! 
One of the best ways to understand the experiential learning happening in the Berkshire Waldorf School community is to experience it yourself. Here are some virtual ways to experience the "aliveness" that sets Berkshire Waldorf School apart, and learn how Waldorf education meets your child's curiosity, creativity and need for action with learning that also builds self-esteem, character, empathy and leadership:
Click here for more about BWS teachers and curriculum
Here's an introduction to Waldorf education
And answers to questions parents often ask when considering Waldorf education
 This film about the global Waldorf experience from the 100 year celebration of Waldorf education (2019)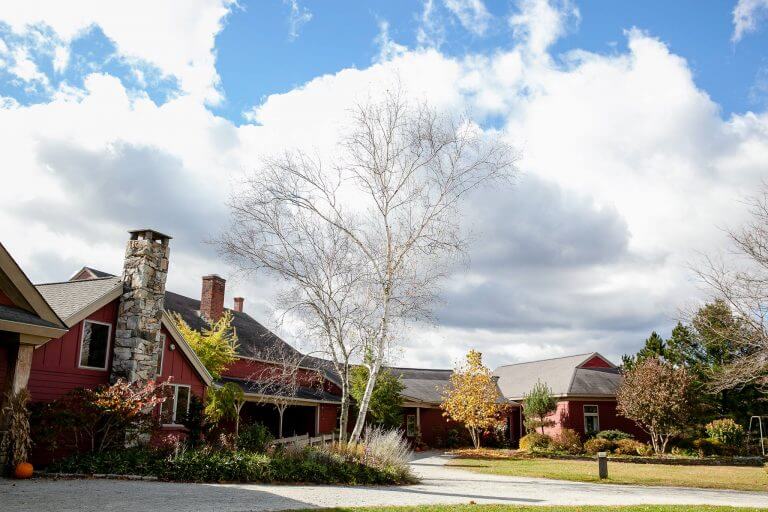 Like many Waldorf schools worldwide, Berkshire Waldorf School was first founded as a kindergarten in 1971. Now serving students from toddlers through 8th grade, our 32-acre campus of forest, fields, play yards and gardens bounded by the Green River has two buildings, the Betty Szold Krainis Early Childhood building and the primary building, housing elementary and middle school grades. Our library—the original school building, a classic Berkshires timber frame barn—is the heart of our school, and a cozy place to visit on a snowy afternoon! Our indoor and outdoor classrooms also include art studios, an auditorium which is both theater and community gathering space, a science lab, playing fields and biodynamic gardens.

The admissions office plans to be open during the Berkshire Waldorf Summer weeks (June 25-August 7) to welcome you to campus, and our team is available throughout the year to introduce you to BWS and answer questions via phone, email and video chat.
We look forward to talking with you about your family's journey! Please call BWS Admissions Director Robyn Coe at 413-528-4015 x. 106, email admissions@berkshirewaldorfschool.org, or click below to schedule your virtual visit.

2. Apply
We welcome your application for the 2020-21 school year. Berkshire Waldorf School accepts applications year-round, provided there is space in the class. Click on the links below for admissions forms. We will ask you to provide various supplemental information, depending on your child's age.
BWS offers sliding scale tuition based on your adjusted gross income for Early Childhood and Grades students, as well as additional need-based tuition support for Grades 1-8, once your child has been accepted. You'll find current tuition rates at Annual Tuition Rates, and more information about sliding scale tuition and additional tuition support on our Tuition Support page.
Our students come from many educational, geographic and cultural backgrounds (about 40% of our families relocated to the Berkshires to attend BWS), and matriculate to a diverse and impressive array of high schools. Click here for a list of high schools to which the Class of 2020 has been accepted.
Apply to Parent-Child Garden (4 mo – 3 yrs)
Parent-Child classes are for young children who attend classes with a parent or caregiver. There are three age ranges, 4 months to walking (Sweet Peas), 1-2 years (Buttercups) and 2 – 3+ years (Morning Glories). To register for Parent-Child classes for Fall, Winter or Spring sessions, visit Parent-Child Garden. 
Apply to Early Childhood (ages 18 months-6 years)
Children are eligible to join our mixed-age Early Childhood classes (nursery, pre-K and kindergarten) if they will be 18 months old by September 1, 2020. The young nursery starting at 18 months is new for the 2020-21 school year. We also are in the process of forming a separate class just for toddlers, depending on the need for full time care. At the upper end of early childhood, depending on your child's birth date, they may turn 6 during their final year of kindergarten, prior to joining first grade the following fall.
To apply to early childhood:
Click below to access and complete the application
Complete the $50 application fee payment per student
If your child is currently in a program, please ask their teacher to complete the Teacher's Feedback Form (waived for students moving up from BWS Parent-Child Garden classes)
Once we've received your child's complete application materials, an early childhood teacher will be in touch to arrange a meeting with you by phone or video, and may also speak with your child's current teacher.
Apply to Grades 1-8
Children are eligible to apply for First Grade for the 2020-21 school year if they will turn 6 by June 1, 2020. An interview, first grade screening and current teacher's reference are also part of the application.
Here are the steps to apply:
Complete application
$50 application fee (per student)
Copies of student's previous reports or grades
Teacher's Reference for transfer students
Signed Transcript Release form to release records from previous school(s)
For first grade, Once we receive your child's application and teacher's reference, the next step is to arrange your child's first grade-readiness screening, a personal visit that includes stories, activities, and games. Your child will go on this visit with an experienced classroom teacher and another member of the first-grade readiness faculty. Afterward, the teachers will also meet with you. When enrollment for First Grade nears capacity, priority is given to current Berkshire Waldorf School early childhood students.
For grades 2-8, Once we receive and review all admissions materials, the class teacher and a subject teacher may arrange a meeting with you and your child. If the class teacher would like to move ahead with the application, s/he will invite your child to spend at least two consecutive days in the classroom. During the class visit, another teacher will also meet with your child. Based on this visit, if the class teacher would like to move forward with the application, s/he will arrange a meeting with you.
For admissions for students ages 14-18 (grades 9-12) at our affiliated Berkshire Waldorf High School in Stockbridge, MA, contact Admissions Director Sarah Blexrud at admissions@berkshirewaldorf.com or 413-298-3800.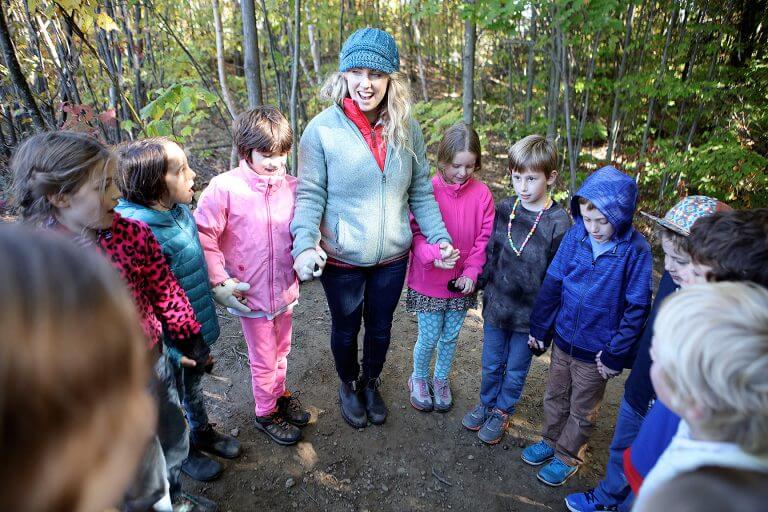 3. Introduce Us
First Grade
Grades 1-8
4. Enrollment considerations:
Our school's suitability for the child's age, ability, and individual educational needs.
Whether the applicant is compatible with the efficient education of children already placed in the school. We aim to maintain a healthy constellation of pupils in each class.
Whether we have the resources to meet the student's needs. Children who are not doing well in other schools often flourish at Berkshire Waldorf School, but there are learning and behavioral challenges that are beyond our scope. In some cases, children may be accepted on a trial basis. Additionally, a child joining a class in elementary or middle school may need individual tutoring support in specific subjects, such as foreign language learning or music, to participate comfortably with their class. Individual tutoring is the responsibility of the parents.
Although we especially welcome pupils from other Waldorf schools, Berkshire Waldorf School admissions policies still apply.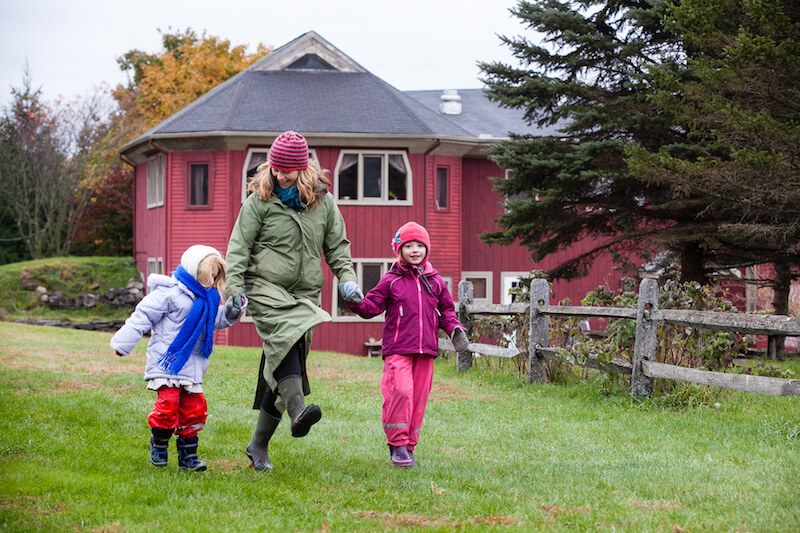 5. Jump In!
After your child's interview or visit, we'll send a letter notifying you of your application status. If your child is accepted, you will also receive an email link to complete online enrollment forms, including:

Tuition agreement
School health forms and immunization record
Student permission forms
The tuition agreement in TADS.com will let you select payment options for the year. You can opt to pay the enrollment deposit right in TADS or pay by check. This non-refundable deposit secures your child's place at Berkshire Waldorf School and is applied to the cost of tuition for the year. Once your child is accepted, if you would like to apply for adjusted tuition based on your income, please see instructions on our tuition support page.
"Berkshire Waldorf School is a treasure, truly a game-changer for children and families."

– Holly Henderson-Fisher
Need more info?
Please contact BWS Admissions Director Robyn Coe at (413)528-4015 ext. 106 or admissions@gbrss.org.