Welcome Back!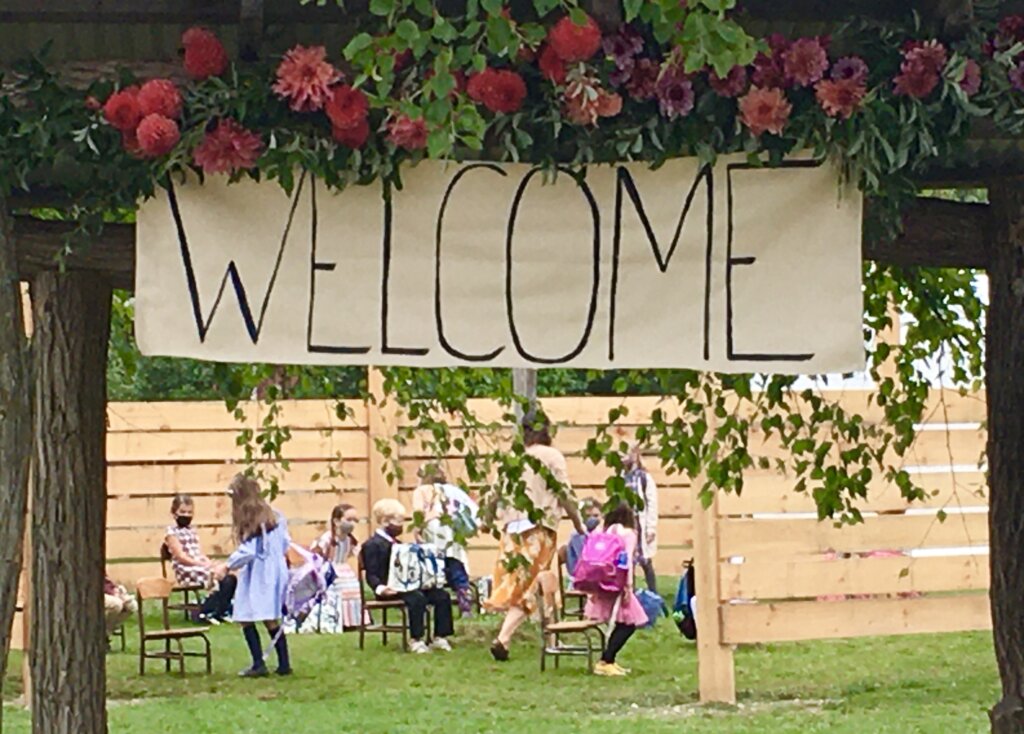 Opening Day News
August 10, 2021
Dear BWS Families,
Welcome to the 2021-22 school year, our 50th anniversary year. We are counting down to the first days of school!
Wednesday, September 8 for grades 1-8 students
Monday, September 13 for Early Childhood students
The First Day of Grade School
First Day of School, Grades: Wednesday, September 8, 8:15am-12:00 pm
We welcome students between 8:00 and 8:10am, for a prompt 8:15 start. They will need their backpacks, school supplies, any summer assignments, a water bottle and a snack. Grade school students wear assembly dress on the first day. You'll find more about assembly dress here.
Rose Ceremony, September 8, 11:30am
Our first day of school includes the "Rose Ceremony," where the Eighth Grade class welcomes the incoming First Graders in a lovely BWS tradition. This year's ceremony will be held at 11:30am, outdoors behind the grade school building.
The following day, September 9, will be our first full day of grade school (8:10am-2:50pm).
The First Day of Early Childhood Classes
First Day of School, Early Childhood: Monday, September 13
This gentle transition day is an abbreviated morning–all children attend from 8:10 to 12:00p. You'll find the drop-off and pick-up procedure in your Week-at-a-Glance email. The second day of school, Tuesday, September 14, will follow the regular EC schedule of 8:15am to 12:00pm for half-day students, or 8:15am to 2:45pm for those attending the full day.
Find our preliminary 2021-22 school year calendar here. Note that these dates may still change.
Health and Safety
The Berkshire Waldorf School is pleased to share our Health and Safety Plan for the 2021-22 school year. The health and safety of our community is our top priority. We have worked diligently with the consultation of our Medical Advisory Panel to put this plan together.
We continue to closely monitor the impact of COVID-19 as we prepare to reopen school. The good news is that all of last year's work prepares us for this coming year, with a structure in place to implement policies that are deeply informed by experience.
We are grateful that the BWS Medical Advisory Panel (MAP)—a collaborative trio of local family physicians with broad backgrounds in public health, first-line COVID response and Anthroposophic medicine, who are also current and alumni parents at our school—will be our expert advisors again this year.
Our school community met virtually for a Back to School Health & Safety Town Hall on Sunday, August 29.
Click the button below to view the Town Hall.
Back to School Forms
All your child/ren's health, safety and contact forms will be available in your TADS account this year. Look for an email from BWS with an "enrollment or re-enrollment" link to complete your child/ren's back to school forms, and be sure to submit them before the first day of school.
Faculty News
BWS is overjoyed to welcome these new and returning teachers:
Steve Simonak, First Grade Class Teacher – Mr. Simonak is a seasoned teacher, recently returned to the Berkshires after graduating his eighth grade last spring at Brooklyn Waldorf School, having taken the class since fourth grade. Before moving to Brooklyn, Mr. Simonak was a class teacher at Hawthorne Valley School for grades seven and eight, and also carried a class from third through eighth grade. Prior to class teaching, he taught high school mathematics for over 15 years. Mr. Simonak did his Waldorf teacher training at Sunbridge Insitute, Antioch New England and Alkion Center, and has been a faculty member at both Alkion Center and Sunbridge Institute.
Eileen Markland, Music Director – Ms. Markland plans to return  in September, and Ms. Bing Liu, who stepped in so gracefully earlier this year,  will continue private violin instruction at our school.
Andrea Patel, Librarian – Returning  to BWS in the role of school librarian, Ms. Patel is a Waldorf graduate herself and a BWS alumni parent, strongly connected to our curriculum and mission. She has taught kindergarten at the neighboring Berkshire Country Day School for many years. 
Jo Valens, Rainbow Room – A BWS master Early Childhood teacher, Ms. Valens returns this year as a long term substitute when Ms. Charlotte goes on maternity leave.
Jennifer Green, Student Support – Rising seventh grade teacher Jennifer Green will also assume the newly formalized role of Student Support Coordinator. Ms. Green, who has a background in individual support, education and special services, will partner with faculty, parents and our local Berkshire Hills school district to coordinate academic support for students in all grades. 
Lisa Kolarsick, Assistant Grades Teacher – joins Berkshire Waldorf School from the Waldorf School of Mendocino County in Calpella, CA. As a Specialist teacher there, she taught grade school Spanish and games, as well as first grade handwork, beeswax and creative play. Ms. Kolarsick has years of teaching experience both in and outside the classroom. She has been a Peace Corps volunteer in Guatemala, a teaching naturalist, a teaching artist, a yoga teacher and a farm and garden teacher. Ms. Kolarsick attended Skidmore College, and is a published poet. She will be an assistant teacher at BWS in tandem with earning her Waldorf teaching certificate at the nearby Alkion Center in Ghent, NY.
Administration News
And we welcome new members to our Administrative Team:
Josh Fisher, Facilities Manager – After being very involved in the building and maintenance of the outdoor classrooms last school year, as well as shepherding our Visiting Animals Program goats and sheep, Mr. Fisher joins as full time facilities manager and on-deck documentary filmmaker. Mr. Stockfisch will continue to help with our IT and HVAC systems.
Jack Gleason, Director of Business & Finance – Mr. Gleason has been hard at work for the school since January 2021, leading us through an audit (which the school conducts annually), the budget, and heading into another audit.
We are sorry to say farewell to:
Stacey Hartka, Marketing Director – Ms. Hartka has played many important roles at BWS, from bandaging skinned knees and answering questions from command central at the front desk, to creating the full visual application of the school's rebranding, plus keeping our community posted via social media and the weekly News-at-a-Glance e-newsletter. Thank you for everything!
Eddy McDonald, Star Room Assistant – We will miss the calm and very patient presence of Eddy, who was outside with Ms. Rebecca and the Star Room children for our COVID year. Blessings on your next steps!
Jeff Novick, outgoing Director of Business and Finance – Champion, cheerleader and caped crusader, Mr. Novick has been instrumental in building and maintaining the school's physical and fiscal health for many years, and continues in a consulting role. Gold star!
School Leadership
The Leadership Transition Team passed the baton to the Leadership Selection Committee (which includes teachers, administrators and school trustees) in July, and they are conducting a process to select our new three person leadership team, who will reinvigorate BWS governance around a collaborative model.
A pedagogical leader
A community leader
An operations leader
Look for news about this process in the near future. We expect the new three-person leadership structure to be in place for the start of the school year.
Aftercare
BWS is hoping to offer aftercare this year, based on your feedback from the Aftercare Survey, arriving in your inbox on Tuesday, 8/10. Thanks for participating!
If you have any questions about the upcoming school year, please call the front desk at 413-528-4015 x 0, or email Leslie Bissaillon at info@berkshirewaldorfschool.org.
Happy 50th anniversary, Berkshire Waldorf School! Enjoy these last sweet days of summer, and we will see you all in just a few short weeks.