Celebrating First Nations Day
As you walk onto the Berkshire Waldorf School campus this week, you'll see turkey feather flags that students of all ages have hung on branches for First Nations Day, to remember the connection between the people, the land and a spirit of gratitude.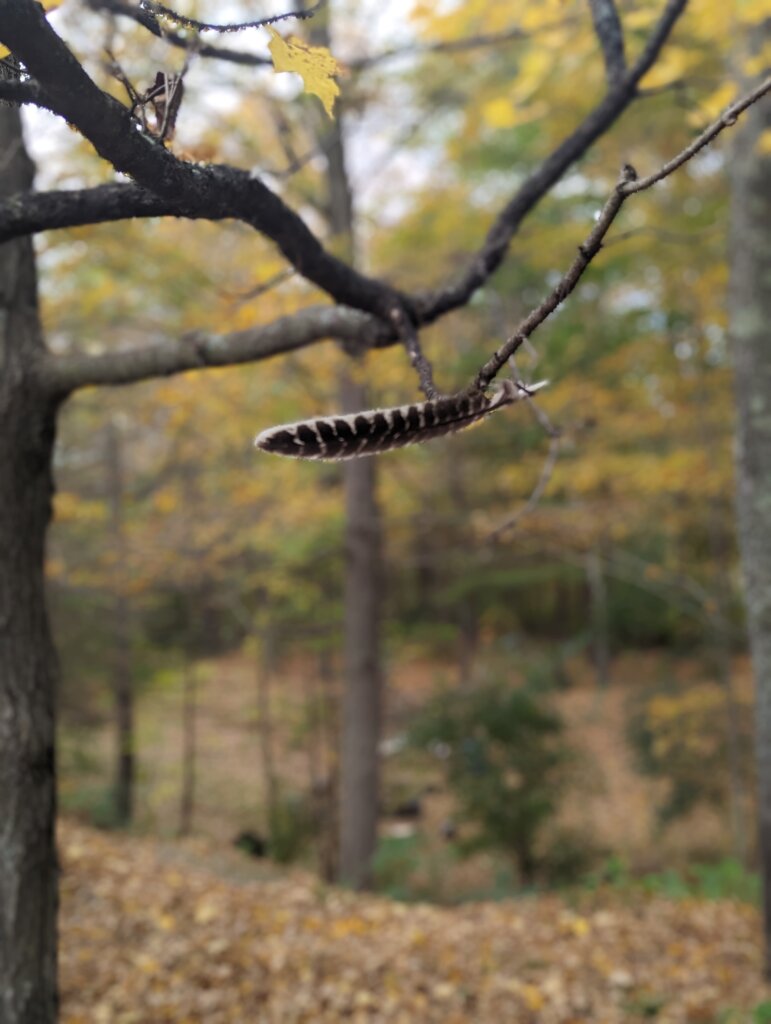 We were honored to welcome members of the Stockbridge-Munsee Band of the Muh-he-con-ne-ok (Mohican Nation) Shawn Stevens and Shannon Chada back to their Homelands from their current-day reservation in Wisconsin, for our school celebration on Tuesday.
Mr. Stevens, also known as Standing Eagle, visited the school for the first time last year. He and Ms. Chada were visibly touched by the turkey feathers—hung knee-high by our youngest students—welcoming them along the path beside the native "sumac forest," near the Nursery play yard. (Sumac is a treasured Mohican medicine plant.)
Fire Circles – The Original Classroom
This year, Mr. Stevens brought traditional flute and drum songs to Early Childhood students, plus a humorous story. (Kindergartners can tell you the story of "How the Bear Lost Its Tail"—that tricky fox!)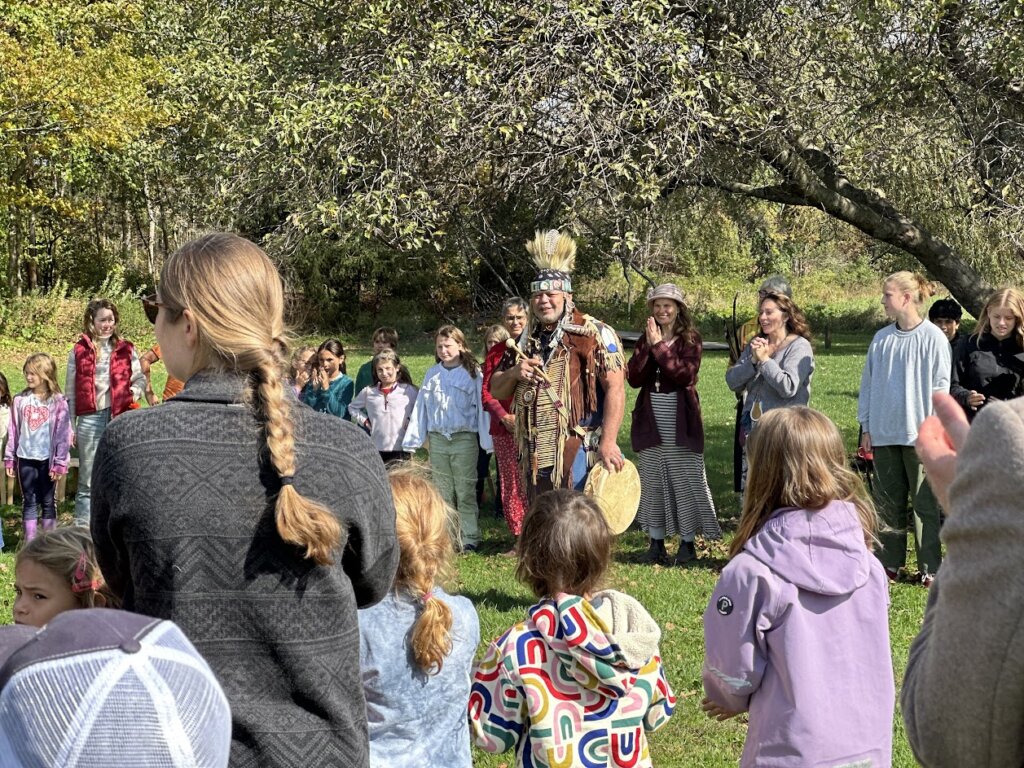 Around the fire with First through Eighth Graders, Mr. Stevens spoke about many aspects of Mohican culture that resonated with topics our students are already learning about, such as how Mohican family groups lived in longhouses, all along the Mahicannituck (Hudson River), and east to the Housatonic. Mr. Stevens described how warriors ("those with big hearts") went out in their canoes to meet Henry Hudson when he came up the river; at that time, the Muh-he-con-ne-ok had already lived along its banks for thousands of years.
Mr. Stevens discussed how many Nations in our Eastern Woodlands region are relatives, springing from the original Algonquian language group, and had disbursed as far as the Great Lakes and the Carolinas, in order to share available resources. For this reason, he noted, the name Muh-he-con-ne-ok designates "where we're from" more than "who we are." It translates approximately to "People of the Great Tidal River."
What We Learned
Eighth Graders reflected on the ways of thinking that Mr. Stevens discussed in the circle. Here are a few of their takeaways:
"We are all family. We are all the same species, and all come from the same place (Earth). If we could really realize this, we could end war forever."
"My shirt is made of thread, woven into cloth to keep warm, but it doesn't mean anything; it's a thing. Mr. Shawn was saying every thread and bead and stitch of his sash was woven with good intentions and prayers. Imagine how that feels."
"The tribes of North America, just like the tribes of Africa, aren't generic, but distinct Nations, with their own languages and cultures and ways of life."
Onewe! Thank you for teaching us!
Click the button below to see more pictures of the Great Barrington town ceremony and walk on Monday. We are so grateful to see our students carrying the banner for Indigenous Peoples' Day.
We remember that we are gathering and learning on the sacred, unceded Homeland of the ​Muh-he-con-ne-ok, the People of the Waters That are Never Still, who are now living and thriving in Wisconsin and the Berkshires.