School Clothes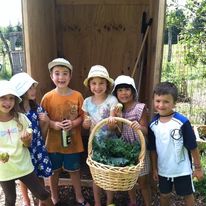 At school, we expect Berkshire Waldorf students to be neat, clean, and dressed for our active, "all weather" school. That includes being adequately dressed and prepared for a variety of New England weather, including footwear.
It's helpful to look at your child's daily/weekly schedule to understand what clothing will work best for each Grade or Early Childhood program. In addition, keep an eye on the daily weather report, as weather in the Berkshires can be unpredictable. Your child's teacher will provide a recommended clothing and gear list, and will ask you to keep an extra, full set of clothes in your student's cubby at school, replenished seasonally.
We request parents' and caregivers' thoughtful collaboration in helping children be ready to fully participate in their indoor/outdoor school day, while maintaining standards of dress and appearance that support excellent behavior and concentration.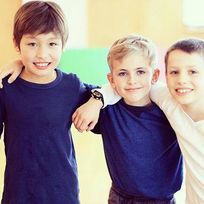 Daily Dress*
What we expect for students' school clothing:
Comfortable and flexible
Neat & Clean
Supports climbing, running and jumping – for example, shoes that stay on during all their activities and pants, skirts and shirts that allow for a full range of movement and stay in place during a variety of activities like Eurythmy, Games, Gardening, Woodwork.
Age-appropriate
Weather-appropriate
Functional and practical – will support and protect your child throughout the day (ripped clothing is not functional & practical)
Lets their individuality shine – no words, slogans, brands or media-inspired graphics (BWS gear and athletic uniforms are OK)
Enables full participation in learning – for example, hair or clothing should not be in or over the eyes; if necessary, teachers will provide students with a barrett or headband.
Cleats should not be worn in the building
If teachers notice a student's clothing or accessories aren't conducive to learning, teachers will contact parents with a recommendation.
Please note: Hair dye is not permitted.
*In addition to regular school days, we consider that "daily dress" applies to class trips, after-school activities, as well as school-sponsored events held off campus.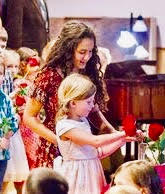 Assembly Dress
Performance creates a circle between the presenter and the audience. Our students put a great deal of effort into their offerings; learning to present themselves with dignity and assurance includes wearing formal attire.
For school assemblies, ceremonies and public performances, we ask students to dress up.
Options include:
Dresses
Dress tops and skirts or pants
A button-front, solid or simply patterned, long-sleeved, collared shirt tucked into pants with a belt.
Denim skirts/jeans and high-heeled shoes are not permitted for performances or assemblies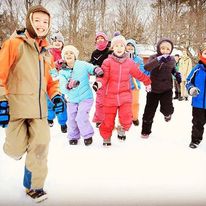 Dress Code Maintenance
Your child's teacher will provide a gear list that will help students remain healthy, happy, comfortable and active throughout their school day. Since the Berkshires can sometimes have more than one kind of weather in a day, you may need to provide changes of clothing, or extra socks and waterproof mittens, for example, to prepare your child to adapt to changing conditions.
Look for more Dress Code details in the BWS Parent Handbook.