Celebrating Black History
As we honor Black History Month in February, BWS is thrilled to be taking part in a webinar conversation with New York Times bestselling author Ibram X. Kendi (How to be an Antiracist). This program is sponsored by the Association of Independent Schools in the Northeast (AISNE), one of our school accrediting bodies. 95 independent schools across the Northeastern U.S. will join for a collective listening of parents, teachers, staff and trustees. Dr. Kendi's talk, "Go Beyond an Awareness of Racism: Contribute to the Formation of a Truly Just and Equitable Society," will take place online starting 5pm on Wednesday, March 3. Adult members of the BWS community will receive an email to register for this evening. After Dr. Kendi's talk, all participants are invited to participate in community conversations and affinity spaces.
Unify for Change
During February, Berkshire Waldorf School teachers usually join 500 early childhood teachers at Green Meadow Waldorf School in Spring Valley, New York for the Waldorf Early Childhood Association of North America (WECAN) Conference. Pumpkin Patch kindergarten teacher Christianna Riley writes, "This year, due to COVID, we combined East and West Coast WECAN Conferences virtually. There were over 800 participants, and the theme for the weekend was Black Lives Matter.
"I'm thrilled that my colleagues and the Waldorf Early Childhood movement have taken up anti-racist, anti-bias and social justice education as important and necessary. I came back to our Berkshire Waldorf School community inspired and humbled, with many ideas for how we can work together as a community for equity and justice. "
Learn Black History
Rose Room Nursery teacher Beth Oakley, who also attended the conference, recommends a resource from academic, writer and activist Rachel Cargle. Cargle's project Discover Our Glory is a curated guide to educating oneself about Black History. It highlights the fact that Black History is inseparable from American History.
This worksheet includes prompts that you can research on your own to learn more about the rich history of African American people.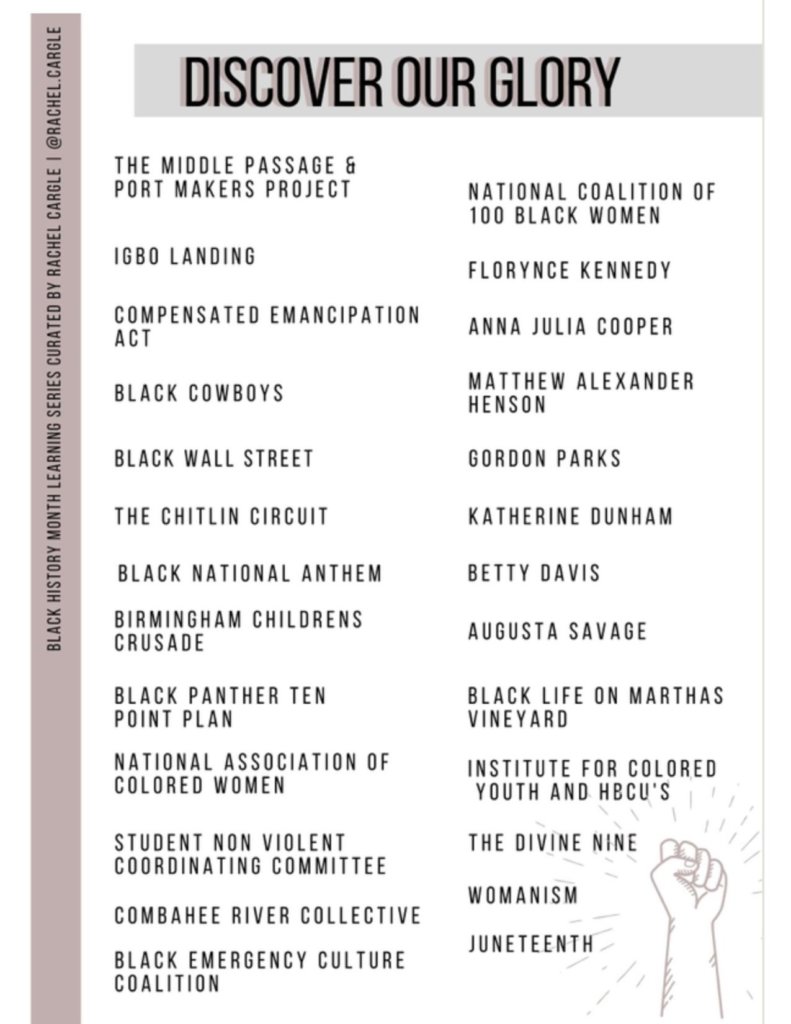 "Each item on the list is a part of Black history to research during February," Ms. Oakley writes, "I'm taking it day by day, and I encourage our whole community to join in. Even if I know about a topic, I still make a point to read up and reflect on it. This is a simple and powerful way to educate oneself."
Creating a Just Society
Mrs. Riley writes that she is continuing the journey she embarked on in January, with the AntiRacist 30 Day Challenge. "I have been exploring the platform," she continues, "And found insightful and powerful information. I highly recommend both these endeavors."
"Remember," Ms. Oakley adds, "If we actively and genuinely pursue antiracism and social justice in our own lives and within ourselves, our young children will pick up on that gesture and learn–as they grow up–to do the same."