Summer at BWS!
This summer we are excited to offer a breadth of activities for children ages 4-14 during two-week sessions.
SUMMER PROGRAM Two week sessions:
Session 1: June 19 – June 30
Session 2: July 10 – July 21
Session 3: July 24 – August 4
Monday-Friday, 9:00 a.m. – 3:00 p.m.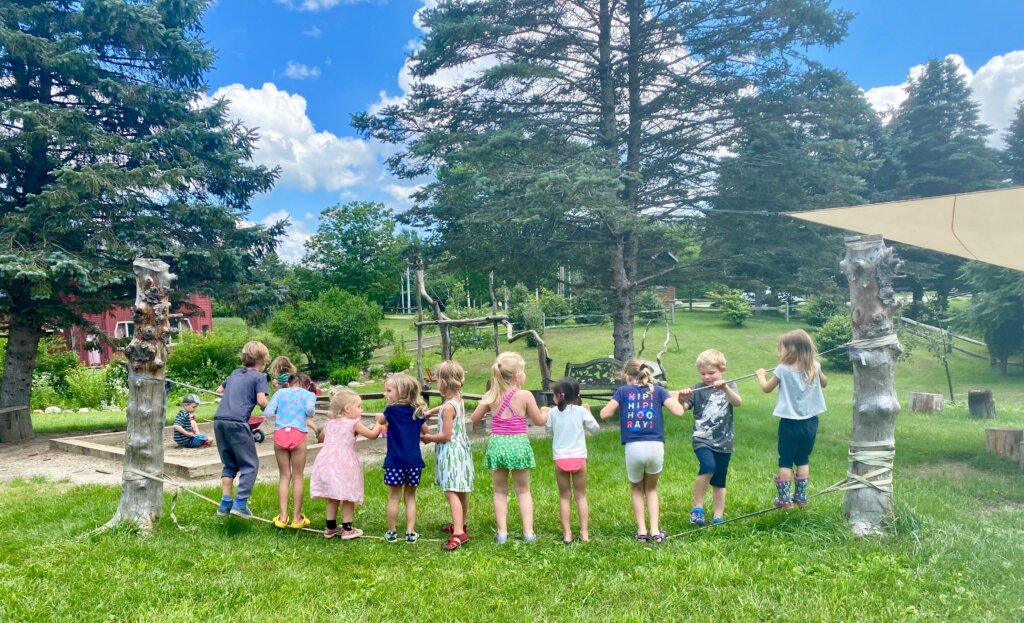 Early Childhood
For children ages 4-6*
Our Early Childhood summer program offers a gentle rhythm to the summer day with songs, games, preparation of snacks together, outdoor and water play in our Early Childhood play yards. Special events include splashing in the Green River, tending, exploring and tasting the fruits and veggies from our biodynamic gardens and paying visits to our farm animal friends. Afternoons will be spent in quiet activities and rest.
This is a mixed age Early Childhood group, for children ages 4-6.
*Children must turn 4 by June 1st, unless your child already attends our regular school program and is recommended as ready by their teacher.
Farm & Forest Arts
For children ages 7-14 in two groups:
7-10 year olds (Grades 2-4) | 11-14 year olds (Grades 5-8)
We'll spend mornings on the farm and in the forest, the afternoons swimming the beautiful Green River.
On the farm and in the forest we'll be working with practical and fine arts. Practical arts of working in the garden, caring for chickens, sheep, and cows, stocking the farm stand, exploring the forest and practicing stewardship, building and firing a wood-fired cob oven to bake our own sourdough bread, harvesting wood from the forest and chopping and stacking firewood, will be balanced with the finer arts of paper making, learning to draw and paint in the garden and forest, and imagining and building giant puppets and their nests and dens in the forest as we create our own stories and play spaces inspired by the plants and animals around us.
To Register
The cost is $850 per session, per child.
There is a discount of $200 off if enrolling for all 3 sessions; $100 off if enrolling for 2 sessions.
Registration is offered exclusively to BWS families until March 15. After this date, available spots will be offered to the general public.
To complete registration:
Send an email to summer@berkshirewaldorfschool.org including:
The name of the child(ren) you wish to enroll.
What session(s) you wish to enroll in.
You will receive a confirmation email regarding your enrollment inquiry.
Following that you will receive an invoice from the business office*.
*IN ORDER TO SECURE YOUR ENROLLMENT YOU MUST MAKE A PAYMENT FOR YOUR DEPOSIT. If you wish to make payment via a different method (by check or cash) please inform the business office to secure your enrollment. 
Questions
If you have any questions please send an email to summer@berkshirewaldorfschool.org. We hope to see you this summer at BWS!