Early Childhood
At Berkshire Waldorf School, learning begins with rich sensory experiences and play-based education that honors your young child's developmental readiness and innate potential. We offer programs for children from toddler through the last year of kindergarten; depending on what age your child enters school, they may stay with their same class and teacher for several years. (See More Info below for class details.)
Children innately learn through play, action and imitation, so our early childhood program offers them play-based learning, with "child-activated" natural playthings, stories, songs and movement. Learning by doing teaches collaboration, enhances creativity and strengthens each child's love of learning and doing, caring for themselves and each other.
Each class has a designated Outdoor Classroom: climbing trees, sandboxes, the Hairy Beary Woods, Tree Island, surrounding gardens, fields and streams, all changing through four seasons of the Berkshire year. 
Homelike classrooms, filled with color and the fragrance of baking bread, or soup (which the children help to make with vegetables from our biodynamic garden), appeal to all their senses. The dependable rhythm of the day nurtures your child's self-esteem, and creates a natural bridge from home to school.
Berkshire Waldorf School welcomes your application for Fall 2022. Sliding-scale tuition, based on your family's income, is available. Our early childhood programs run during the school year, September through June. Berkshire Waldorf Summer offers Waldorf-inspired summer day programs (June 22 – August 7) for young children, starting at age 4. For more information, call Admissions Director Robyn Coe at 413-528-4015, ext. 106, or visit us for a school tour or family event.
The sensory richness, collaborative play and real work of early childhood bridge to abstract learning in first grade, for children who will turn 6 by September 1.
Early Childhood Faculty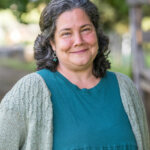 Not pictured: Rebecca Ruof, Star Room Nursery Lead Teacher, Nova Kent-Limon, Star Room Nursery Assistant, WindRose Morris-Keating, Nap Assistant
More Info
Children who are 18 months old by September 1, 2021 are eligible for mixed-age Toddler & Nursery classes in the fall; children 3 years old by September 1 are eligible for mixed-age Kindergarten classes. Placement in classes is determined by the best fit developmentally for the individual child, within the constellation of the group.
Early Childhood and Kindergarten morning classes start at 8:15a and end at noon; full day classes extend until 2:45p, and include lunchtime, rest time and an additional outside play time. Early care and After care are unavailable at the present time due to COVID protocols.
Early Childhood and Kindergarten classes create a special community snack every morning. Children bring their own lunch if they stay for the full day.
Children who will turn 6 during the school year or following summer are strongly encouraged to attend our program for 5 Full Days in order to best prepare for First Grade the following fall. However, if children of this age choose not to enroll for 5 Full Days, they will automatically be enrolled in our Spring 'First Grade Ready Fridays' program. This special Friday program takes place in the last weeks of school during rest time and is exclusively for rising first grade aged children. Group activities with their future classmates are designed to prepare them for the next phase of their education.
Parent-Child Garden classes for children 4 months to 3 years old with a parent or guardian take place year-round in partnership with Somer Serpe of Harmonious Child.
*Early Care and After Care are currently not offered in the 2021-22 school year due to the Health & Safety restrictions of COVID-19. We hope & expect to be able to offer them again in the 2022-23 school year.